Instant Ice Pac is an essential in your first aid kit. These Pacs are single use only and don't need freezing – simply squeeze and shake to activate the product. Affordable and versatile, Instant Ice Pacs are a must for sporting teams to keep in their first aid kits.
This versatile product can be used to treat a range of minor injuries and ailments. (For more severe problems consult your physician.) Because they are flexible you can wrap Instant Ice Pacs around the injured part of your body.
Key Features
No refrigeration required
Just squeeze, shake and use
Use for Cold Therapy only
Economical, Convenient and Effective
Drug-free treatment
No watery mess as that of wet ice
Packaged using high quality nylon bags
Long shelf life
To assist with swelling after sporting injuries, tooth extraction, temporary relief of headaches, migraines and minor burns.
Instructions for use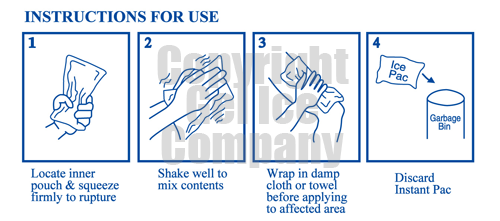 CAUTION
For external use only.
Use only under adult supervision.
Do not use on infants.
Contents are not for consumption.  If accidently swallowed, drink large amounts of water (not milk) and contact Poison Emergency Centre or Physician.
If Instant Ice Pac breaks and contents come in contact with skin or eyes, flush away with large amounts of water.
Cold Therapy should not be used by individuals with circulatory problems unless advised by physician.
STORAGE
Store under room temperature.  Do not freeze.
Size
Medium – 150 x 250 mm
Available in 36 Pacs per case.
Product Life
Single use only.
Disposal
If leakage occurs, flush away with water and dispose of bag.
Please contact us about our wholesale prices.